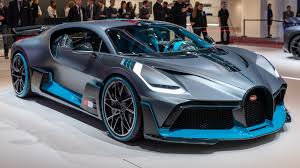 GENEVA — The Geneva International Motor Show, getting underway this week, never lacks star power, but a one-of-a-kind Bugatti is outshining the mere supercars this year. "La Voiture Noire," or "the Black Car," was sold before the show even opened for $19 million, reputed to be the highest price ever paid for a new automobile.
"It is one of one," said Stephan Winkelmann, the chief executive of Bugatti, a French brand long owned by Volkswagen. "There will never be another. I am pleased to tell you that it has sold for 16.7 million euro."
Possibly, if one thinks of it as a car, said its designer, Achim Anscheidt, "but perhaps not if one considers it as a work of art."
Certainly other collectible, less exclusive Bugattis from the brand's storied 110-year past have sold for more; for a time, a Bugatti Royale, one of a handful ever made, held the record for a price paid at auction. And vintage Ferraris have sold for more than twice what the Black Car fetched. But this is a record for a new car, Mr. Winkelmann said.
Although the buyer's name was not disclosed and details about how the final price was determined were scant — some sort of auction among the brand's aficionados is a good bet — Mr. Anscheidt said he believed the Black Car was a solid investment.